Cheap Homemade Dishwasher Detergent DIY
Learn to make your own homemade dishwasher detergent using this one simple recipe. In less than five minutes, you will have stirred up enough dishwashing detergent to clean hundreds of dishes.
Homemade Dishwasher Detergent
The reason we started making dishwasher detergent here on the farm was actually pretty lame. The kids use the dishwasher and they failed to tell me that we were out of dishwashing liquid and we live almost half an hour away from the closest grocery store.
Living out in the country has its benefits, but when it comes to grocery shopping there are not a lot of options. We don't drive to the store for a single item. I had always wanted to try to make dishwasher detergent. As a busy mom, I often opt for the convenience of using store-bought items.
However, the kids aren't the greatest dishwashers. The dishes get much cleaner in the dishwasher or when I do them by hand. I wasn't about to let the kids away with not doing their dishwashing duty, so I dug through my recipes and made a quick batch of detergent.
Much to the chagrin of my kiddos, dishwashing detergent was born and they could right back to scraping and loading dishes. The added benefit to the homemade dishwasher detergent was that it actually got my dishes cleaner than the liquid detergent I was previously using.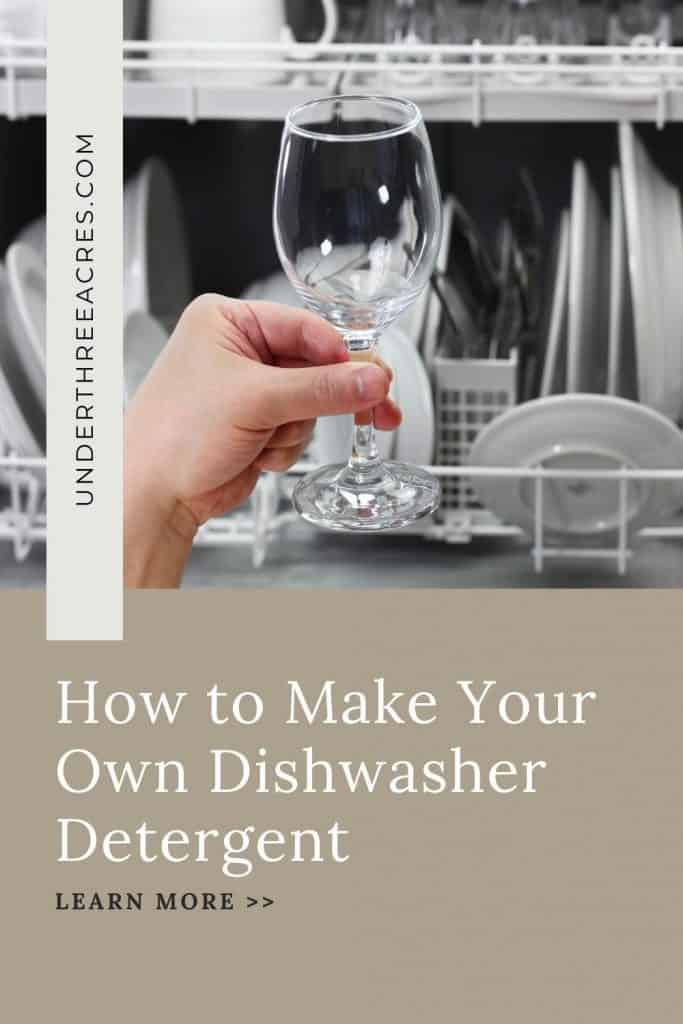 The Cost Breakdown
Let me begin by saying that we are located in Alberta, Canada. As I worked through the cost breakdown of the homemade detergent, I used the cost of the ingredients that I used in the video above.
Washing Soda = $6.49 for 3 kg 1 cup = $0.41
Borax = $5.99 for 1.84kg 1 cup = $0.66
Citric Acid = $21.24 for 5lbs 1/2 cup = $0.61
Sea Salt = $3.99 for 850g 1/2 cup = $0.64
---
Total Cost for 3 cups of Dishwasher Detergent = $2.32 CAD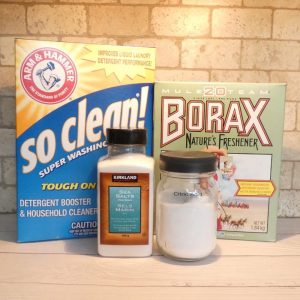 Homemade Dishwasher Detergent
This homemade dishwasher detergent is quick and easy to make.
Ingredients
1

cup

washing soda

1

cup

borax

½

cup

citric acid

½

cup

kosher salt
Instructions
Mix all of the ingredients together in a lidded container. Stir or shake to mix thoroughly.

Add 1 TBSP per load to your dishwasher.
Optional:
You may choose to use Lemi Shine Dish Detergent Booster in place of the citric acid or add lemon essential oil to give your detergent a little bit of lemony fresh scent. I have not tried these, but have heard that these are great options if you prefer a scent.
If you use this recipe, I would for you to tag me on Instagram @underthreeacres. Share and tag me if you feel so inclined.
Homemade Items Around the Home:
// AFFILIATE DISCLOSURE This blog and YouTube channel will occasionally contain affiliate links, which means I receive a small commission on a purchase without additional cost to you if you buy something through my links. The purpose of this blog and channel is to educate the viewers and share everything I know about homesteading, homeschooling, and gluten-free living, and that sometimes includes product recommendations. I do believe in the products I mention in my videos and have experience with them. I will never promote a product I haven't tried or think you'll benefit from. If you purchase through my affiliate link, thank you so much for your support.