Ultimate Guide to Buying a Sewing Machine for Kids
Has your child taken an interest in sewing and is begging you to buy them a sewing machine? Maybe it is their greatest wish for Christmas this year.
If you have smaller children that aren't quite ready for a sewing machine, be sure to grab the free printable Christmas Cookie Lacing cards.
A child wishing for a sewing machine is a wonderful thing! A child who learns to sew is a blessing. But if you haven't got the first idea of what to buy or what to look for, buying a sewing machine can be overwhelming and intimidating.
I want to give you the information you need to buy a machine that will bring your children joy and success in their creative endeavors.
Buying a Sewing Machine? – Some Things to Consider
Child-sized vs. Full-Sized
Sewing machines come in many different sizes. If you go online or into a store you will see that sewing machines are often marketed in a specific way. 
Some are marketed as all-purpose or for everyday usage. Others are marketed for quilters, some can do embroidery and some are directly marketed for use by children.
Child-sized machines are generally smaller, weigh less, and have fewer features and gimmicks than your standard general-purpose sewing machines.
Whether you choose a full-size or child-sized machine will ultimately depend on the features discussed below.
New vs. Used
When you are not sure how long your child will be interested in sewing, it is tempting to find the cheapest option possible. I am sometimes called 'cheap', so I totally understand.
If you see a deal on Marketplace or Craigslist go ahead and check it out. Ask lots of questions. A lot of people buy sewing machines with full intentions to learn how to sew, never get around to it and then try to salvage some of the money they spent. Those machines are virtually new.
Be sure to ask to try the machine. You want to make sure that all of the functions are working, that no pieces are missing and that it isn't a lemon.
Unless you know someone who sews and can help you in a pinch, I would refrain from buying vintage machines. We have owned a few. Most times there are no instructions for them.
If there are no instructions, it might be a nightmare to just get it set up and running. Not every machine is threaded in the same way. If you can't thread the machine, you can't sew.
Some shops offer trade-ins. This can be a great way to get a really good machine for less than retail. They will likely have been fully serviced and the sales clerk can answer your questions.
A new machine is not necessarily the cheapest method, but you have other perks. Most new machines will come with a warranty, instructions and there won't be any pieces missing.
Watch for sales. Sewing machines do go on sale. New models are brought in from time to time and the old models are then sold for a bargain.
Just because a fabric shop has the reputation of being more expensive than the big box stores, don't dismiss shopping there when you are shopping for a machine. Even if you don't buy one of their machines, it is worth a look.
Fabric shops often have machines set up so that customers can try them out. You would be surprised to know that their least expensive models rival the big box store prices. Sometimes their deals are even better than the big box stores.
They have knowledgeable staff that can answer questions and some places even offer a free "getting to know the machine" session with the purchase. My local fabric shop does this. They help you learn how to thread the machine, adjust the settings and show you all of its features.
Mechanical or Computerized
Most sewing machines are either mechanical or computerized.
A mechanical sewing machine will likely have to be oiled from time to time and its overall maintenance is less fussy. It has fewer knobs and buttons and is generally more robust.
A computerized machine can be easier to operate. The push of a button is all it takes to change a setting. However, if it needs maintenance, you will likely have to have it serviced.
I have found that mechanical machines in the entry-level price range can handle thicker fabric and rougher treatment than similar priced computerized sewing machines.
Weight
If independence and portability are important to you, you will want to take the weight of the sewing machine into consideration.
There are some really lightweight machines on the market. Beware that some of the lightest models have a lot of plastic parts. If a crucial plastic part is broken, that could be the death of your machine.
There are lightweight machines (under 15lbs) with a heavy-duty metal frame. The main mechanism is made of metal. They are generally considered to be more durable than those with a plastic skeleton.
Stitches
Sewing machine manufacturers will stamp on the box and sometimes the machine itself how many different stitches it offers. It's a marketing gimmick. Your child will most likely only use a handful.
Make sure the machine you chose can do a straight stitch, backstitch (reverse), and a zigzag stitch. With those three stitches, they can sew almost anything.
Presser Feet
A presser foot is the part of the machine the helps feed the fabric through the machine to be sewn. Presser feet are attached either by screwing them on or are snapped on.
If you choose a machine that has snap-on feet, take a moment to see that they snap on tightly. If they fall off easily, this can be potentially dangerous. It can cause the needle to snap and break.
I've had this happen a few times. This is something no one warned me about. I really like my machine with the snap-on feet, but occasionally a foot will fall off mid-sew.
The other type of presser foot has to be screwed on. It takes a bit longer if you want to change the presser foot than the snap-on foot. You will want to make sure your child can get the screw on tight enough or ask you to tighten it for them. 
If your child sews a lot, be sure to check that the screw hasn't vibrated itself loose. That happens on one of my machines if I sew a lot. A little turn of the screw and it is all good to go again.
Presser feet are also used to market sewing machines. The presser feet that you will want to make sure the machine comes with are: an all-purpose or straight stitch foot, a zipper foot, an open toe, or satin-stitch foot (for zigzag stitch), and if your child plans on making clothing, a buttonhole foot.
Bobbins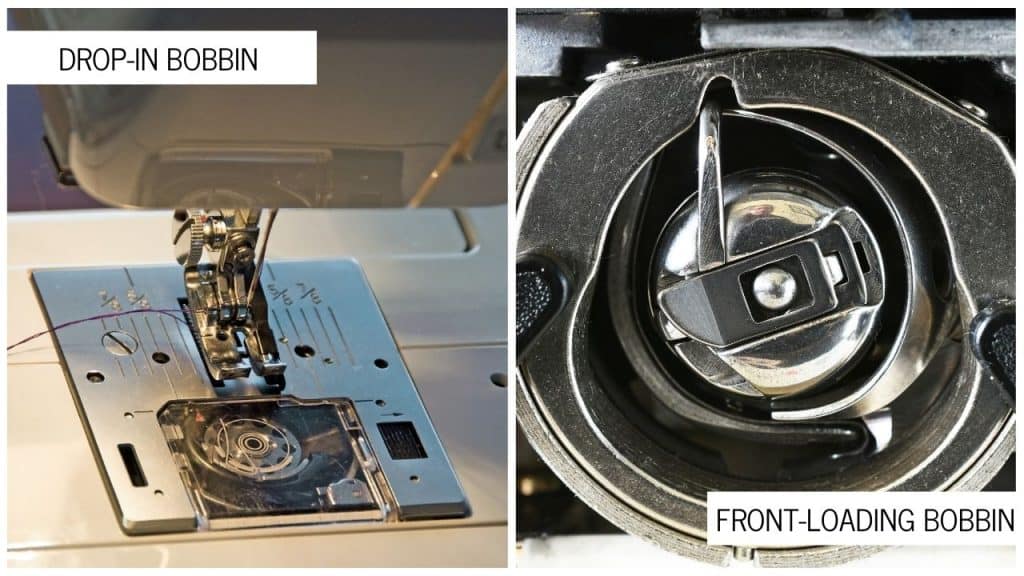 Bobbins are either made of plastic or metal and are either drop-in or front-loading. The first picture has a drop-in bobbin casing and the second picture is a front-loaded bobbin in a metal casing.
My kids all prefer my machines with a drop-in bobbin. It is easier to load and less likely to cause them trouble.
Automatic Needle Threader
An automatic needle threader is a must-have feature in my opinion. I didn't realize how important this was until we were sewing on vintage machines without it.
A needle threader will save you and your child a lot of headaches and frustration.
Adjustable Sewing Speed
When my children are first learning, I teach them to sew on the machine with a speed control dial. I know that this isn't a standard feature, but it is something to look for and to consider.
A friend of mine told me about this feature when I was looking to buy a machine way back when we first moved to Canada.
My kids like that they have more control. The speed is controlled by pushing the foot pedal. It can be hard for kids to not "floor it" when they are first learning. The speed control adjusts the maximum speed.
This feature is not a deal-breaker if a sewing machine doesn't have one. Kids can learn to sew without one, but it is something to keep an eye out for.
Accessories
You will want to check what accessories come with the sewing machine you are looking to purchase.
Most come with some kind of cover, a few needles, cleaning tools, some feet, and some way to power it (AC adapter or batteries).
Some sewing machines come with an instructional DVD.
Other Considerations
Not all sewing machines have the option of a 'free arm.' If your child wants to sew clothing, this is a must.
A 'free arm' is used for hemming, sewing sleeves, and cuffs. Usually, all you need to do is detach a piece around the needle plate to reveal the free arm.
Look for a sewing machine with good lighting. If you can't try out the machine in person, read online reviews, and don't be afraid to ask around.
Most sewists have a favorite sewing machine brand. Don't worry so much about the brand, choose value and functionality.
Are you still feeling confused or overwhelmed? I hope you are feeling knowledgeable and confident. I made a printable checklist for you to take along on your shopping trip so that you don't have to remember all of the details.
My Recommendation
I was debating whether or not to offer a recommendation. I really think that it is best to try different machines out and base your decision on what works best for your child and fits in your budget.
I understand, however, that you may not have the time to go to a store to try out all the machines. You just want to buy a machine that has good reviews and doesn't break the bank.
I have been looking around for you and found the following machine to be a great machine for any beginner. It is probably more than a child needs when they are first learning, but they won't outgrow it anytime soon.
It has a speed regulator! It is one of the only machines that I found around $200 that has this feature. It is pictured above.
At the time of posting the Brother CS6000i cost $209.99 US.
If you have any questions about choosing a machine, drop me a message. I would be more than happy to help.
---
Shop Related Products