Quick & Easy Peg Doll Pouch Pattern
When my oldest children were little, we were living in Germany on a very tight budget. Toys were so expensive. The few toys my children had were made of high-quality materials or they were homemade the peg doll pouch below.
When my 2nd was about a year old, we joined a Waldorf playgroup. Waldorf education is based on the teachings of Rudolf Steiner. Children are introduced to toys in a gentle manner and all of the toys are to be made of natural materials if possible.
This playgroup was a wonderful gift to our family. We enjoyed the time we spent together in the community with the other young families. The other mothers and I would do handiwork for part of the time. We would knit or crochet toys for the children to play with while at playgroup.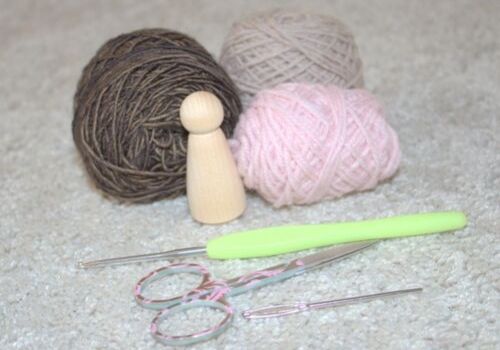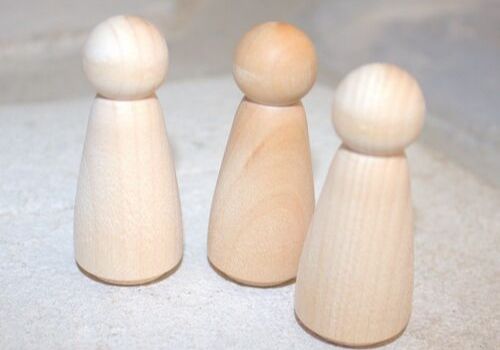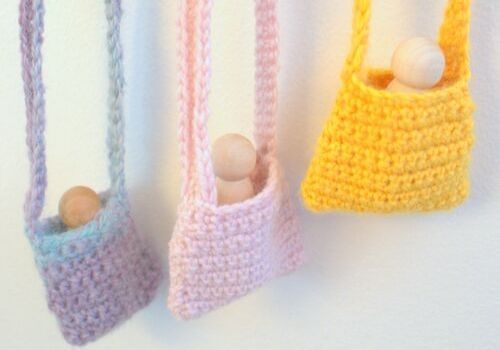 We made doll blankets and clothes, balls, knitted animals, and Schneckenbänder a very versatile toy used for pretend play.
One item that I had never made, that is often seen at Waldorf school fundraisers is a doll pouch. This is a big hit with the 3 to 7-year-old crowd. My kids are obsessed with Peg dolls. They carry them around everywhere.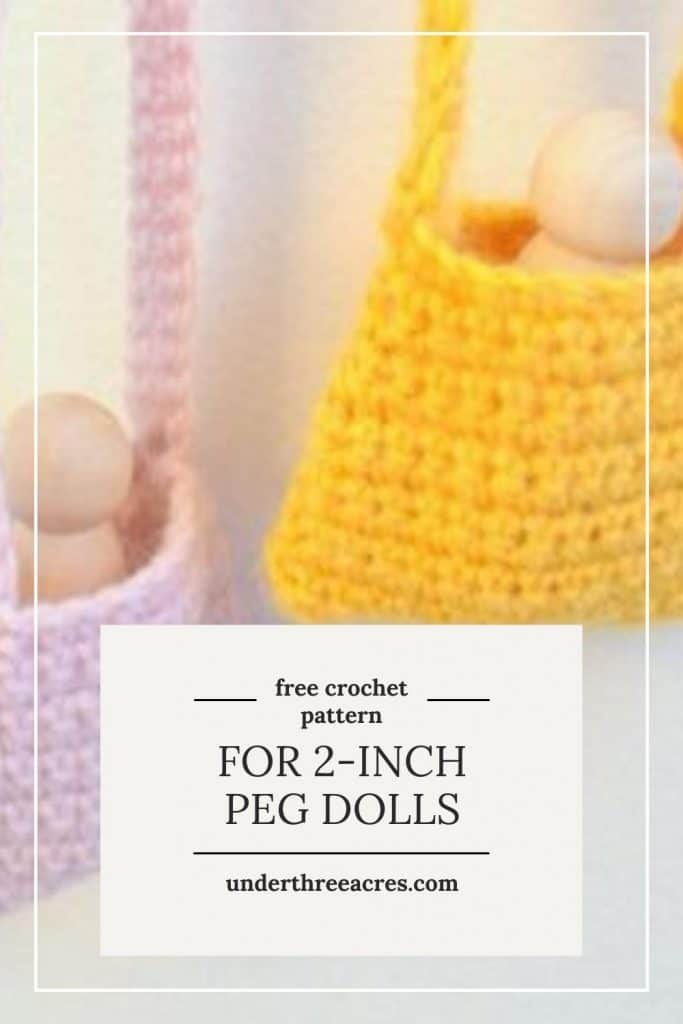 I figured now would be as good a time as any to crochet little pouches for them and share the pattern with you. It is a very simple pattern that requires very little knowledge of crochet.
Honestly, I only know a few stitches and consider myself a novice crocheter. This pattern is simple enough for a beginner, that even an older child could attempt to make one with a little help and perseverance.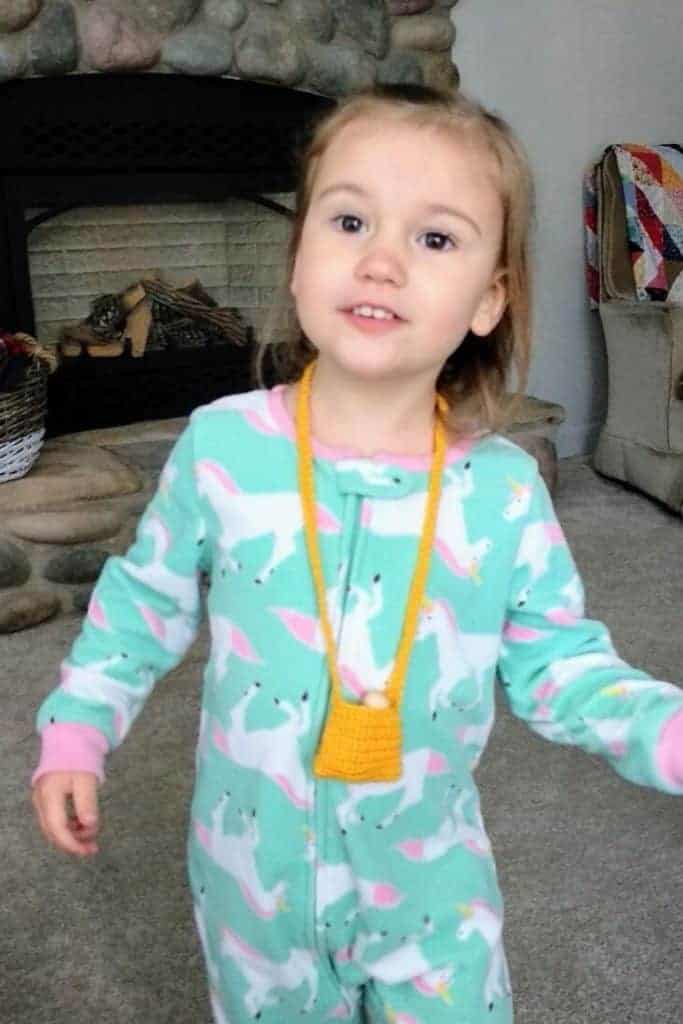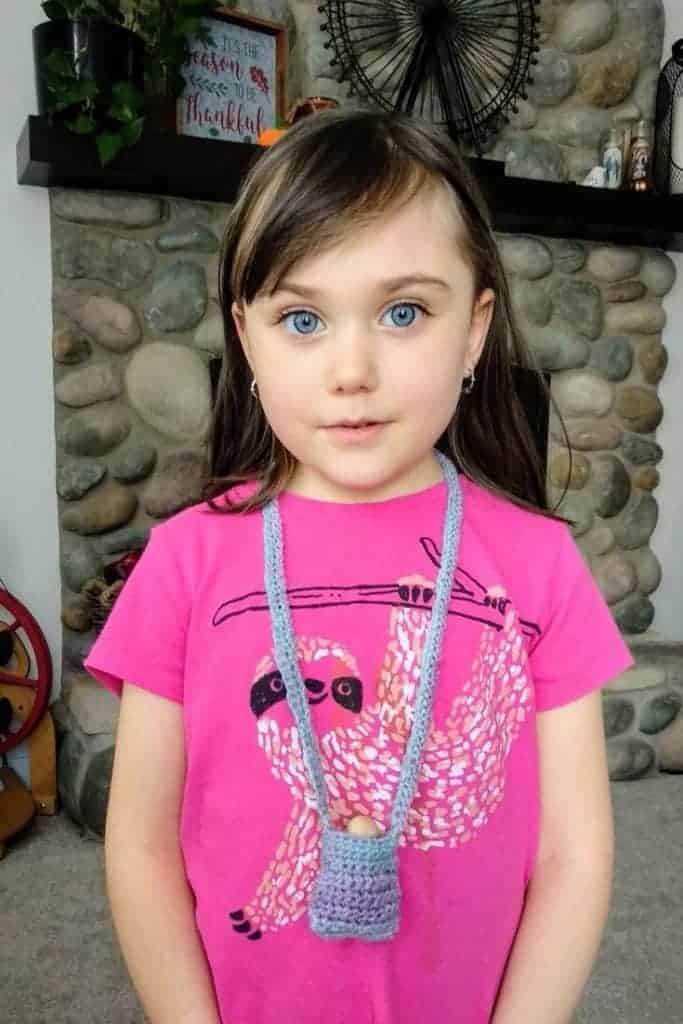 About the Yarn
This can be a heated topic among fiber artists. Some people will only use acrylic yarn because it is washable, doesn't fade, is colorfast, and is cheaper than natural fibers. Others wouldn't dare to use synthetic fibers.
In the Waldorf playgroup, we only used 100% wool that had been dyed naturally. To be completely honest, I prefer to work with natural fibers. Try both and see what you like better.
I personally don't mind if the yarn is dyed with acid dyes or natural dyes. I like to dye yarn with natural dyes and have shared some simple ways to dye using pantry items.
I prefer to use yarns that don't split (when the individual strands untwist) and are easy to handle. Yarns that split are annoying because the needle is constantly getting caught.
The yellow doll pouch is made with a yarn that is discontinued. The new line of yarn is now called "Babyull Lanett by SandnesGarn". The purple peg doll pouch is made with a yarn that I handspun. The pink yarn is made with "Quince and Co.'s Chickadee yarn in Dogwood". This is one of my all-time favorite yarns.
When you make the pouch, be sure to choose a fingering or sport-weight yarn. This pouch fits a 2-inch peg doll perfectly.
Crochet 101
Until I make a video tutorial of this darling peg doll pouch, I will share with you a few YouTube videos that I found. I hope that these will be helpful to anyone who has no previous crochet experience, but really want to make a little doll pouch. They cover the techniques used in the pattern.
How to Crochet For Absolute Beginners
Invisible Decrease for Amigurumi
The Peg Doll Pouch Pattern
Subscribe to get my FREE Peg Doll Pouch Pattern!  
You will also receive regular emails with encouragement, resource suggestions, homesteading tips, and exclusive freebies. You're fully protected by my privacy policy and you may unsubscribe at any time.
If you give my pattern a try, I would love to hear how it turned out. Send me a photo in an email or tag me on Instagram.
Shop Related Products