Rhubarb in spring reminds me of my childhood days spent at my grandma's house. She had this amazing patch of a special cultivar called strawberry rhubarb. Every time I visited, she would tell me about this special variety of rhubarb that had bright red stems and that tasted yummy on a slice of bread.
My recipe for rhubarb apple jam is a tribute if you will, to my grandma. My grandmother passed away a little over 4 years ago and I miss her so much. She was a great cook, a wonderful storyteller, and an amazing gardener. My love of gardening was probably born out of the hours spent chatting with grandma in her garden.
Rhubarb Apple Jam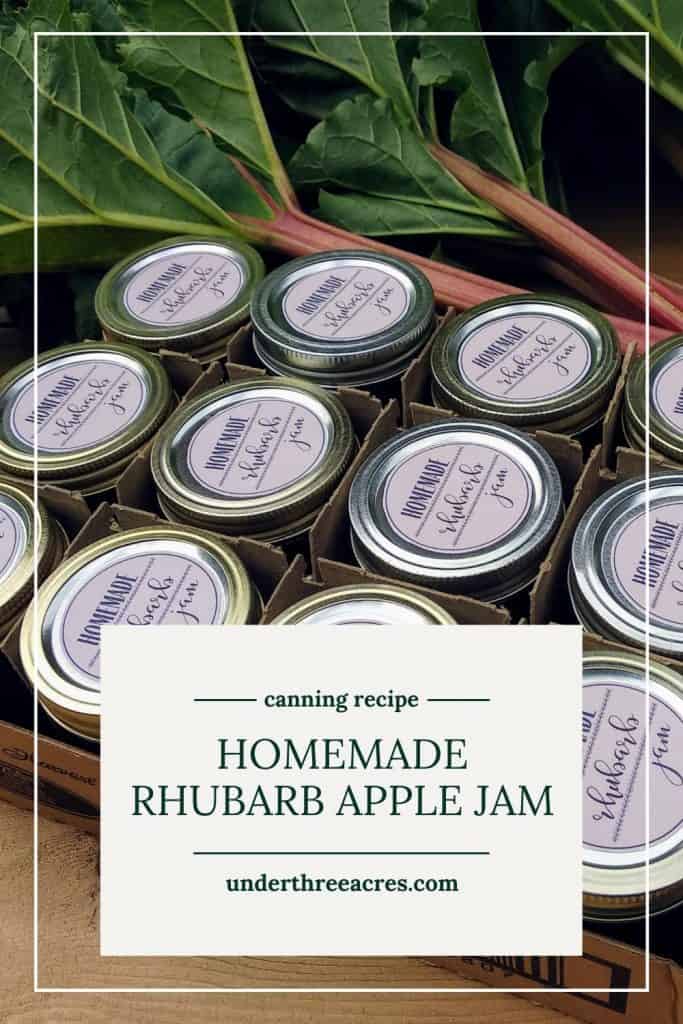 Every spring, when I see rhubarb in the markets and shops, I get totally nostalgic and crave rhubarb jam. It is the first batch of jam of the season in our home. Rhubarb apple jam has the perfect blend of tart and sweet and makes a kick-off to the new canning season.
If you've been following the blog for a while, you might know that I love to garden and spend hours in my backyard garden with my kids. However, no matter how hard I try, I can't seem to grow a decent amount of rhubarb at our current home.
Our local farm outlet store sent out emails last week announcing that the first harvest of rhubarb was ready. It was included in their ONLY LOCAL Freshbox along with a few pounds of ambrosia apples.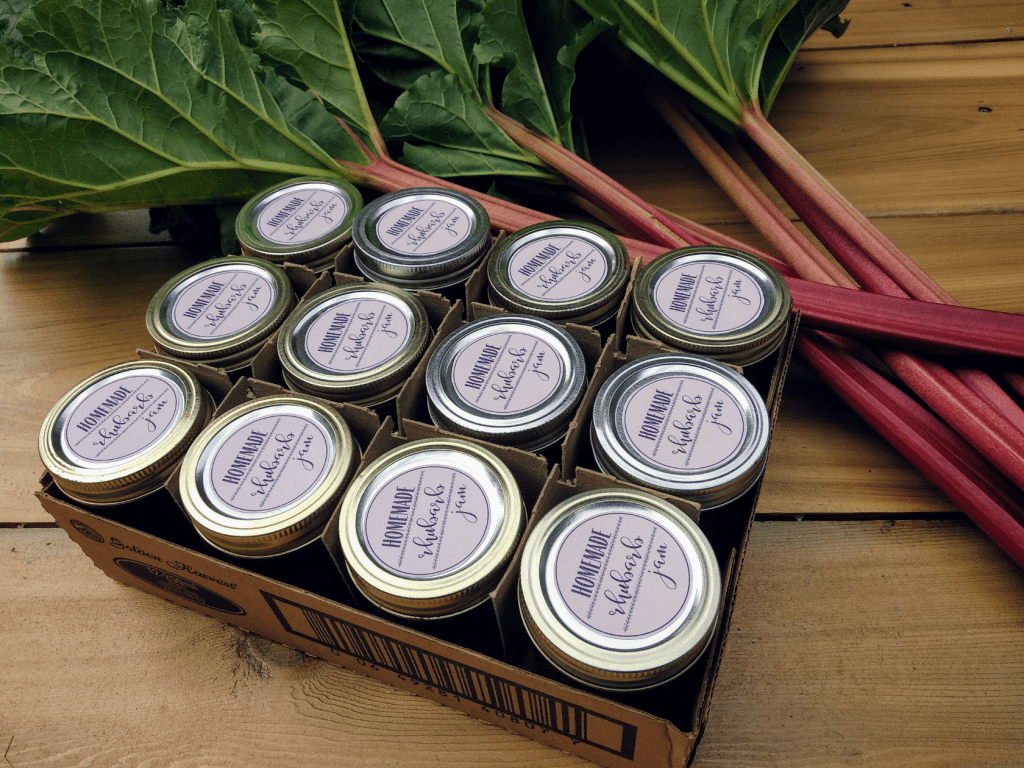 If you have never ever made jam before, this rhubarb apple jam is the perfect beginner recipe. It is so simple and straightforward and yields amazing results every time. If you don't have any apples, you can swap them out for strawberries.
The only thing that I would advise is to make sure that when you dice up your rhubarb and apples, that you cut them into fairly small pieces. The apples I used were not completely softened after cooking for 20 minutes. I ended up using a potato masher to mash them up a bit, but you can leave them chunkier if you prefer or puree them with a wand-type blender. It is totally up to you to choose the texture your family prefers.
Let's get started…
This recipe uses very minimal tools and utensils. You will need a cutting board, knife, measuring cup, measuring spoons, a saucepan, a spoon to stir with, and some sterile half-pint canning jars with new lids and a basic water-bath canner with canning utensils.
When I made this current batch of Rhubarb Apple Jam, it yielded 4 half-pint jars with a little bit to taste leftover.
Rhubarb Apple Jam Recipe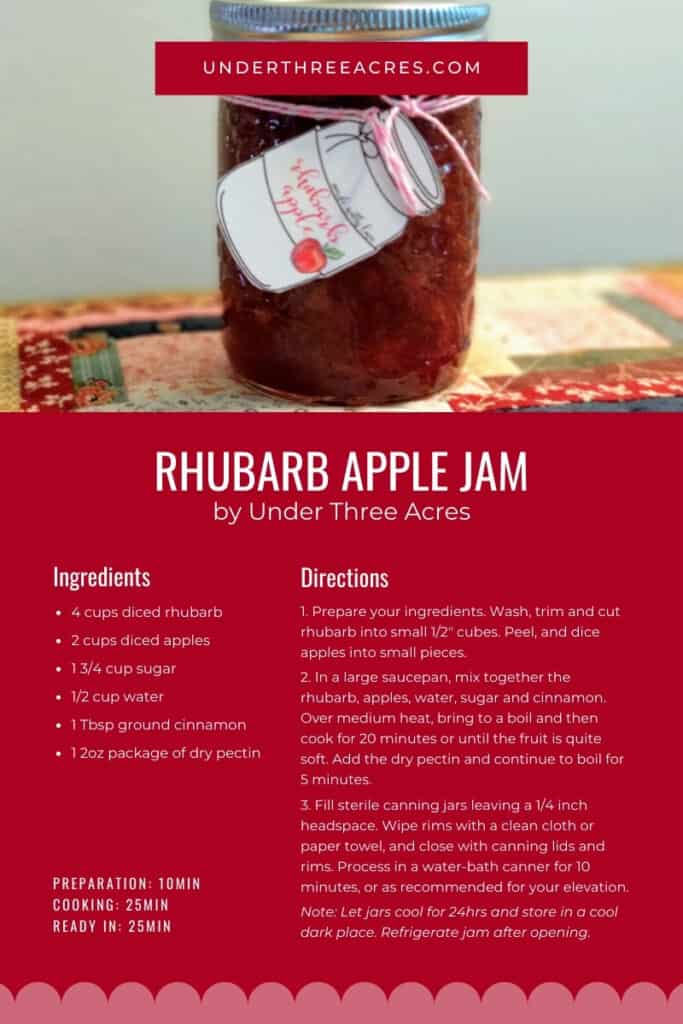 Ingredients
4 cups diced rhubarb
2 cups diced apples
1 3/4 cup sugar
1/2 cup water
1 Tbsp ground cinnamon
1 2oz. package of dry pectin
Directions
Prepare your ingredients. Wash, trim and cut rhubarb into small 1/2″ cubes. Peel, and dice apples into small pieces.
In a large saucepan, mix together the rhubarb, apples, water, sugar and cinnamon. Over medium heat, bring to a boil and then cook for 20 minutes or until the fruit is quite soft. Add the dry pectin and continue to boil for 5 minutes.
Fill sterile canning jars leaving a 1/4 inch headspace. Wipe rims with a clean cloth or paper towel, and close with canning lids and rims. Process in a water-bath canner for 10 minutes, or as recommended for your elevation.
Note: Let jars cool for 24hrs and store in a cool dark place. Refrigerate jam after opening.
If you are looking for labels to add to your jars, be sure to grab my free Farmhouse Jam Jar Labels.
We have huge plans for our garden and the upcoming canning season. I encourage you to get on our mailing list and be sure to follow us on Instagram, and YouTube so you don't miss a thing. We will be sharing lots of photos from our garden, our chickens, and the resources that we use, and not to mention, lots of gluten-free recipes.
Do you have a favorite jam recipe that you make every year? If you try the Rhubarb Apple Jam recipe, be sure to grab your free Jam Jar Labels and leave a comment below.