Handmade Hats for the Whole Family
Handmade hats make quick and easy gifts. They make great projects to learn or to improve your hand-making skills without a large investment of time or money.
Over the years, I have learned so many neat and fun techniques while making hats. They are small projects that make a great introduction to the fiber arts.
Learning cable stitches, decreasing, knitting-in-the-round (on 3-4 needles), and stretchy cast-on methods are a few of the knitting skills that can be learned while making hats.
Crocheting a hat is a simple beginner project that builds skills and confidence. I like that mistakes are easily camouflaged. Can you tell that I am not a master crocheter?
You can even try sewing hats. Fleece hats and ones made of knit fabrics are modern and fun accessories.
When you are first learning to sew with fleece, jersey, or bamboo fabrics you will notice that they do not behave the same as woven fabrics such as cotton or linen. A hat is a great first project to learn about these types of fabric.
We love to make felt balls. Making felt hats is another creative way to master wet felting. It is a lot more work-intensive than knitting and crocheting and it involves a bit of math. However, with a little perseverance, handmade felted hats are a great way to be creative.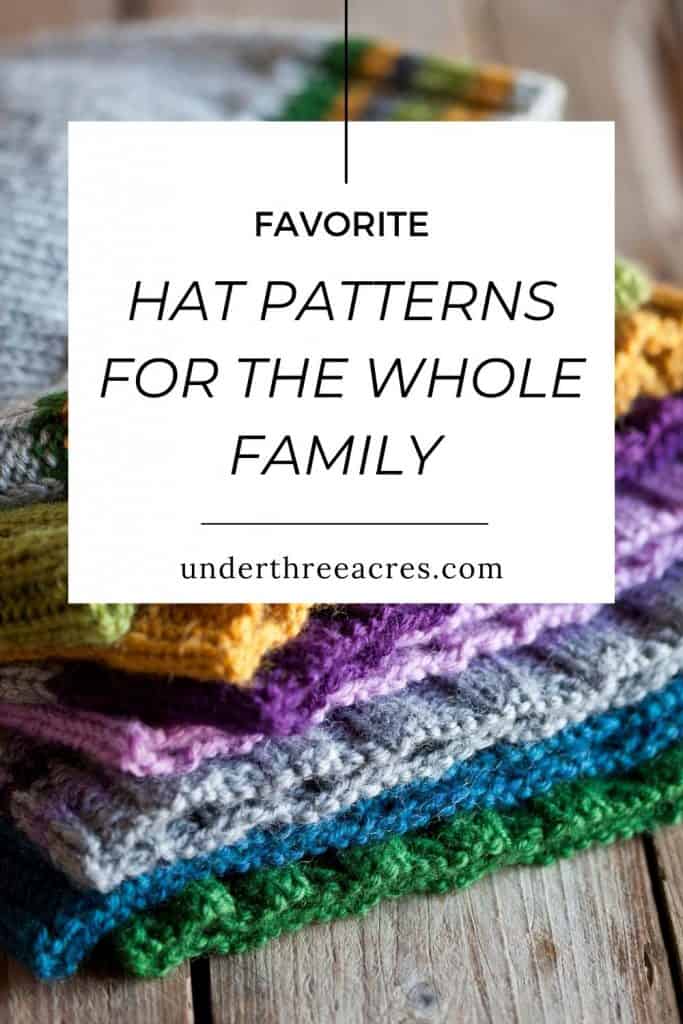 I am the first to admit that large fiber arts projects are not something I do a lot of. For most of my married life, we have lived on one income. Like most folks, we don't have money to waste.
For that reason, I have always used smaller projects to fulfill my need to be creative. Handmade hats don't break the bank. I think perhaps that is why we have so many in our house.
Over the years, I have been known to make hats as gifts. You don't need to know the recipient's exact measurements to get a good fit. Furthermore, there are many opportunities to make hats for those in need, veterans, and for hospitals.
Making hats for charity is a great way for you or your school-aged child to brush up on their skills and do something wonderful for another human being.
Below is a list of FREE patterns for handmade hats that I have either used myself or plan on using in the near future.
Handmade Hats – Knitting Patterns
Barley Hat (charcoal & burgundy striped hat)
Joko Knits (green hat)
The Conversationalist (grey & blue hat)
Gingerbread Hat (bright pink hat)
Space Invaders Earflap Hat (see below)
The following patterns are pictured but are not FREE
Bubble Bonnet (beige hat)
Trafalgar Hat (my purple hat)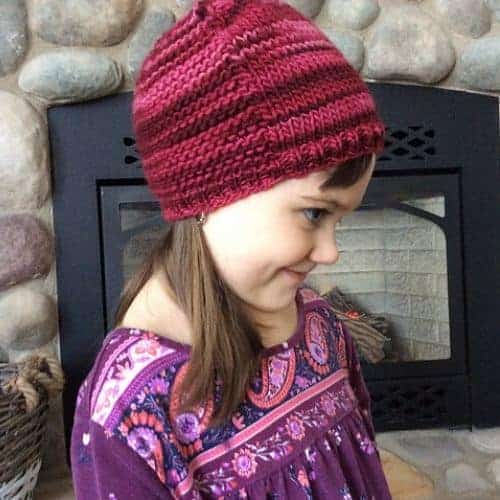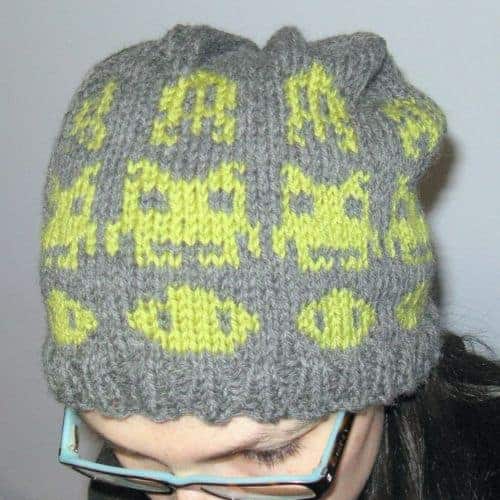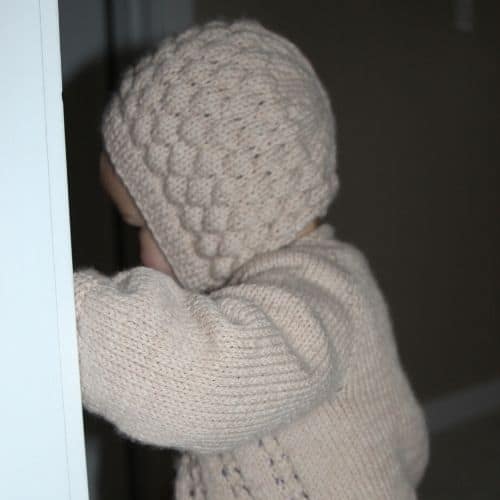 Handmade Hats – Crochet Patterns
Sock Monkey Hat (on the toddler)
Crochet Owl Hat (on the baby)
McKinley's Springtime Hat (light pink with a flower)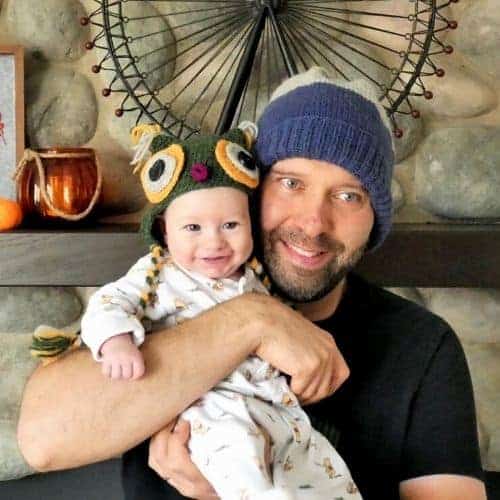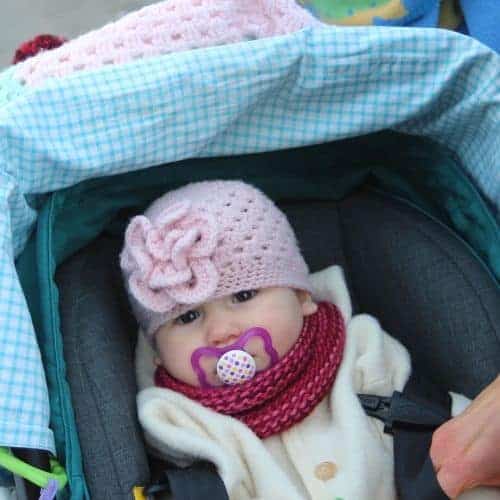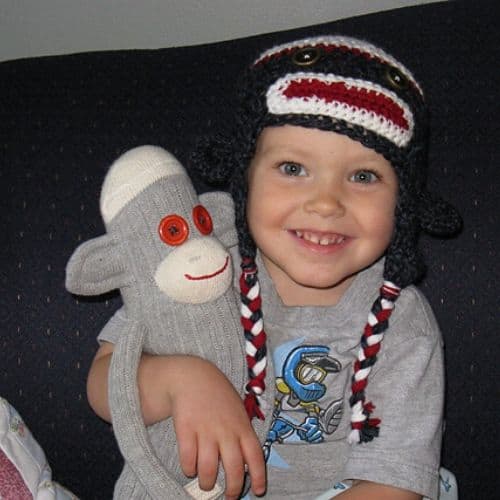 Handmade Hats – Sewing Patterns
DIY Baby Hat Pattern 0-12 mos.
4 Free Knit Hat Beanie Sewing Patterns
Easy Fleece Hat Sewing Pattern
Free Beanie Pattern (4 sizes)
Learn to Knit, Sew, Crochet…
Many people tell me that they regret not learning how to knit when they were a child or that they wish that they could knit. The same goes for crochet and sewing.
Over the years, I have taken quite a few courses with Craftsy. You may have heard of the platform.
They have 1000s of courses and patterns to choose from. I love that you can pause their videos, ask the instructor questions and you can access their courses on any device.
If you have ever been frustrated with YouTube videos because you ended up with more questions than answers, or couldn't find exactly what you were looking for, give Craftsy a try.
Before you run off and start making hats for everyone, don't forget to pick up some FREE "Handmade with Love" gift tags to attach to them, and let me know which hat pattern is going to be your next project.