Fast and Easy Gluten-Free Baked Apple Cinnamon Oatmeal
This delicious gluten-free baked apple cinnamon oatmeal is a healthy make-ahead breakfast option that even my pickiest eater will eat. The best part is, that it is quick to prepare. It is simple enough that an older child can bake it with just a little bit of supervision.
I don't know about you, but I am not a creative breakfast person. I need breakfast to be simple, healthy, and enough to feed a large family. Gluten-free cereal options are expensive, especially if you have a lot of mouths to feed.
Bake With Me… Gluten-Free Baked Apple Cinnamon Oatmeal
Growing up on a farm, we ate a lot of oatmeal. It was a staple at the breakfast table. Most people are in one of two camps when it comes to oatmeal; they love it or they hate it. I have one kid who hates it.
Baked apple cinnamon oatmeal, however, is more like dessert and makes the cut for this particular child. It is also a great recipe to make ahead to freeze or to give you the chance to sleep in a little. I appreciate any extra sleep I can get.
All of the food in our home is gluten-free. Most items are dairy-free and a number of other things 'free' due to food allergies and sensitivities. Everything we cook is also prepared in super-sized portions due to the fact that we are a 10 person household.
If your household is not gluten-free, the original recipe that I modified was also not gluten-free. It was also not super-sized. I modify recipes to meet our needs and tastes and share them here on the blog after finding the right combination of ingredients with a finished result worthy of sharing.
To bake this version of baked apple cinnamon oatmeal, you only need a handful of ingredients. None of them are too crazy. If you have ever done any gluten-free baking, you know what I am talking about. There are no weird ingredients that are some sort of gum or alternative flours.
Grab 3 of your favorite baking apples and peel and dice them into little chunks. Heck, you can even leave the peels on if you prefer. It doesn't really matter for this recipe.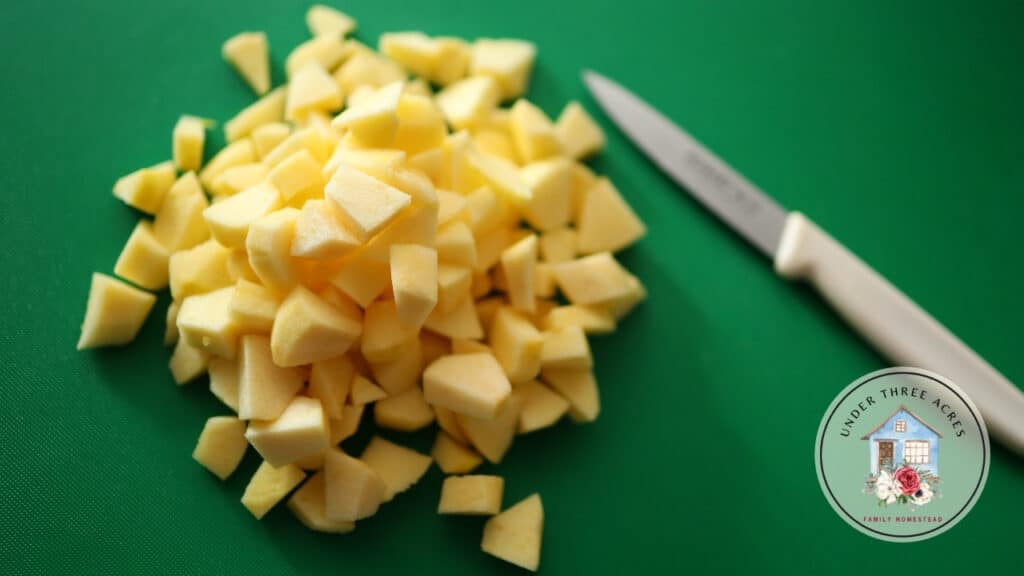 Before you forget, preheat the oven to 350F or 175C and grease a large baking dish. I used the 10 x 15-inch pyrex baking dish for this recipe. I've had this baking dish since my university days. I even took it to Germany with me because I loved baking so much.
Unfortunately, it was too large for the German ovens. So if you have a small oven, you can use two smaller pans, too. One for breakfast tomorrow and one to freeze for later.
I use lard to grease my baking dishes because it has to be dairy-free for one of my kids. You can use butter or oil if you prefer. It doesn't matter what your preferred grease is, just do yourself the favor and grease it. It makes serving a whole lot easier.
In a large bowl, mix together gluten-free oats, chopped walnuts, cinnamon, ginger, and salt.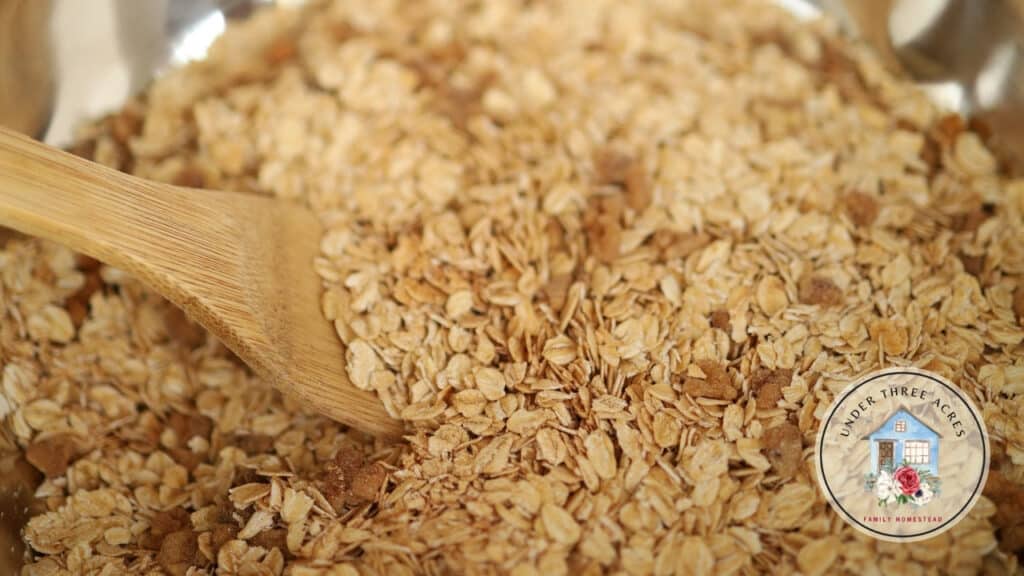 Next, you add the chopped apples and the applesauce. The recipe calls for 1 1/2 cups of applesauce. If you can your own applesauce in pint jars, you can use a whole pint jar as I did in the video. It is a little more than 1 1/2 cups, but no one will know unless you tell them.
If you don't can, you can use the store-bought applesauce in the pint-sized jars. I use those all the time. Use what you have. I use unsweetened applesauce, but we don't like our food to be overly sweet. You can use sweetened if you like.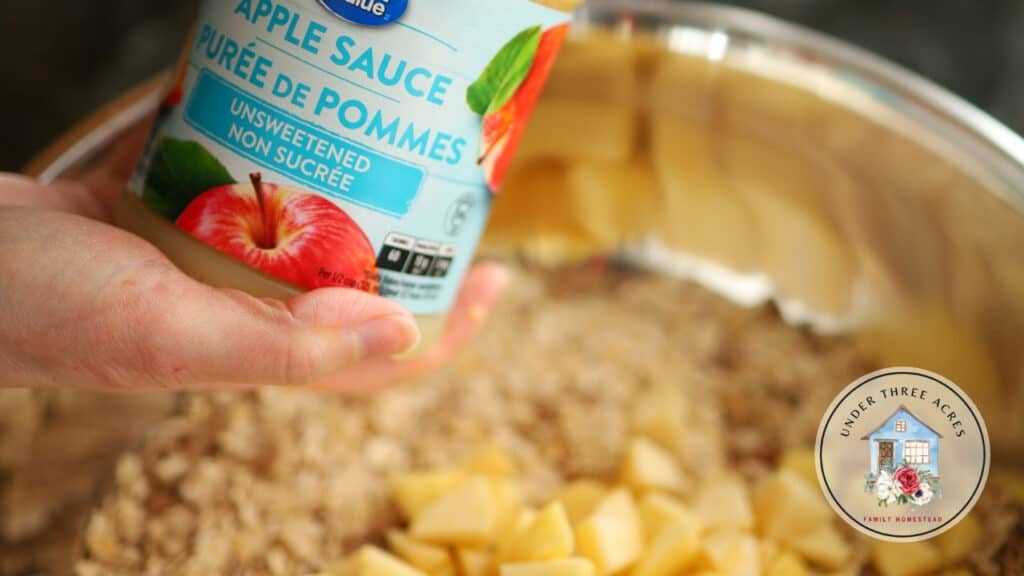 Before you mix it all up again, add the eggs, dairy-free milk, (we use oat milk) maple syrup, and vanilla. Use 6 large eggs or a couple more if your eggs are smaller like some of our homegrown ones.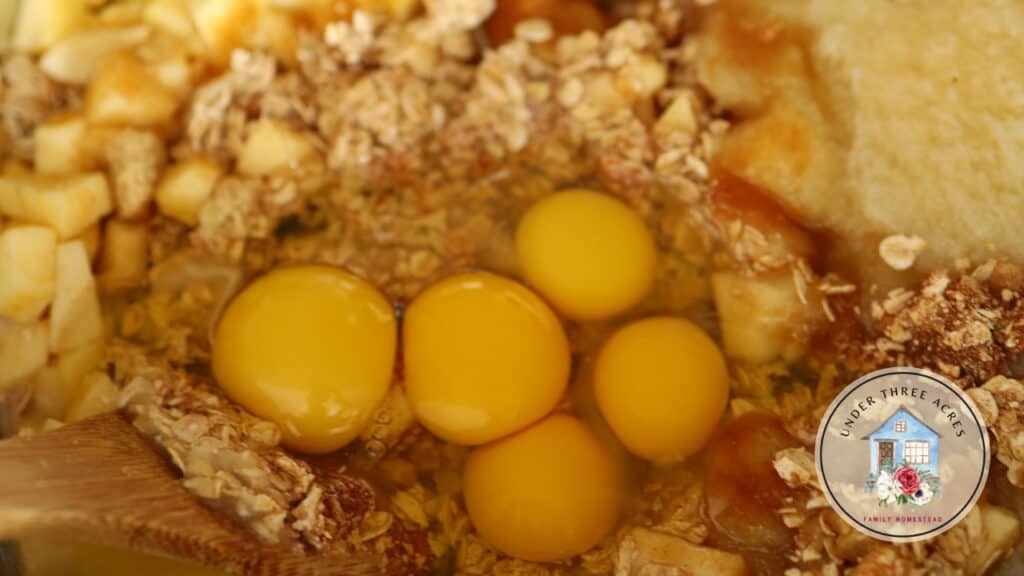 Mix it up again and pour the batter into your greased baking dish. Smooth it out and bake it for 30 minutes or until it is golden brown around the edges. Be sure to let the baked apple cinnamon oatmeal sit for 5 minutes before you cut into it. This allows it to be served in nice pieces.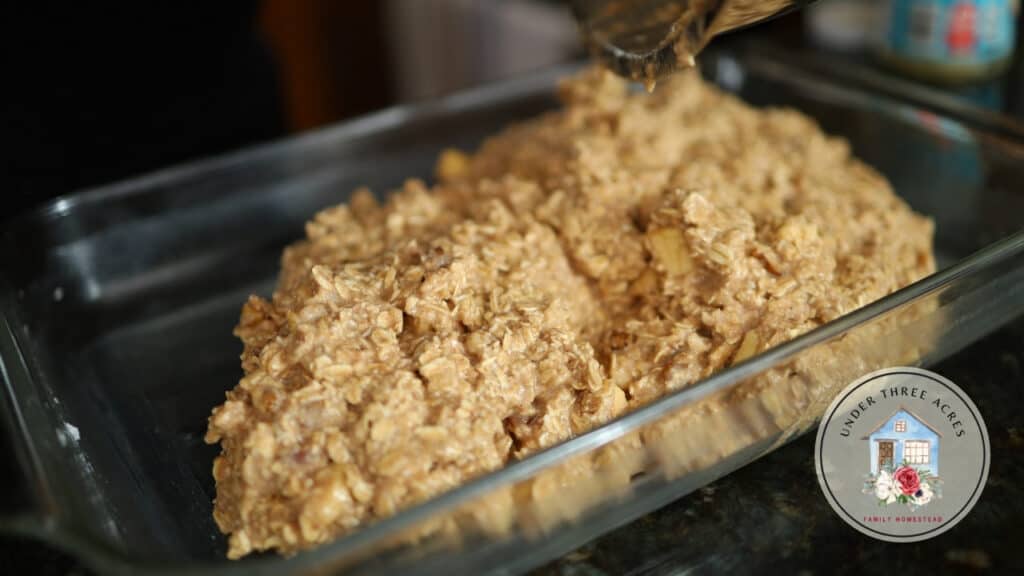 You can enjoy it plain, or add some fresh fruit to your taste. I am sure that it would taste amazing with some whipped cream or yogurt if you can eat dairy.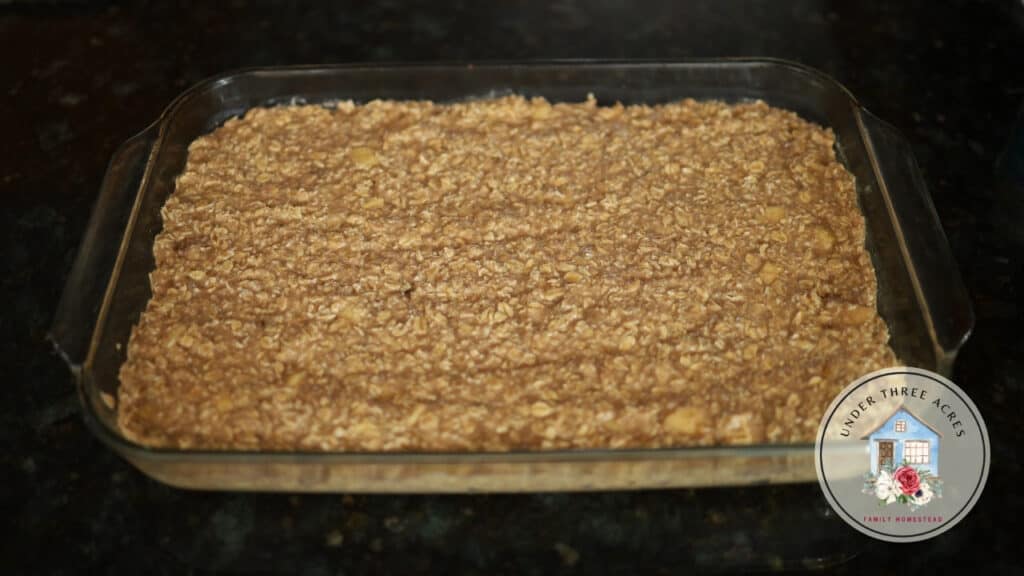 Be sure to grab a copy of the recipe of the Baked Apple Cinnamon Oatmeal and bake some for your family. I would love to know what you think. Leave a comment below or tag me on Instagram @underthreeacres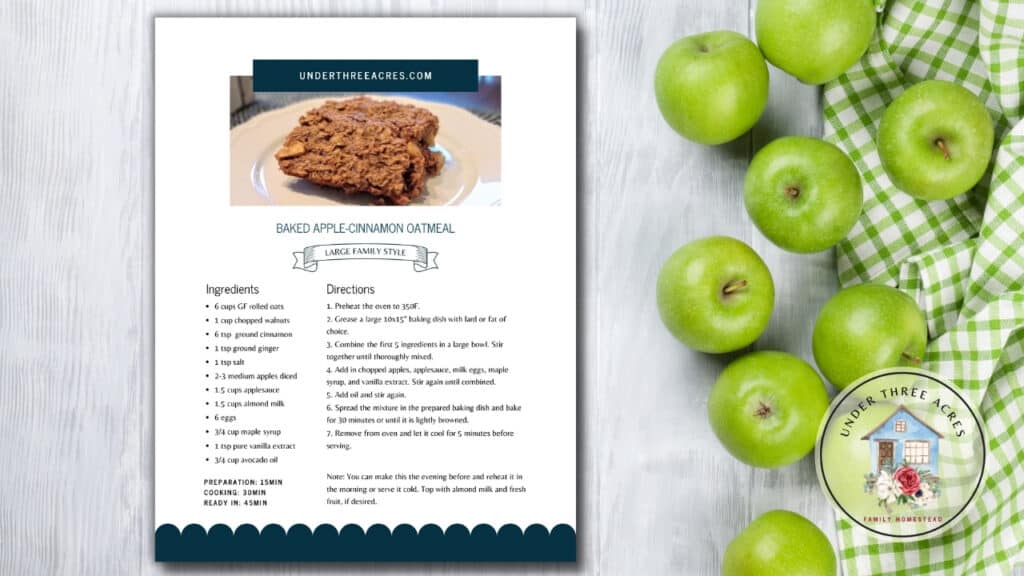 Want More Gluten-Free Recipes? Try One of These!
Easy Gluten-Free Chocolate Brownies – Grain-Free & Dairy Free
Simple Gluten-Free Cornbread Without Corn – A Paleo Cornbread Recipe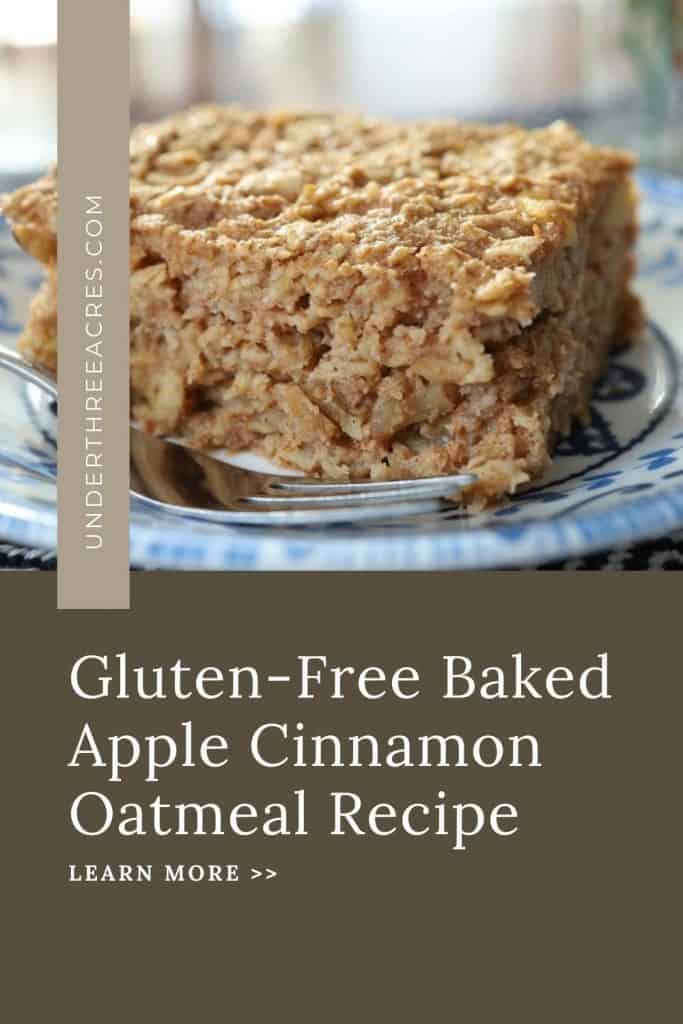 Ne