Favourite Fall Recipes for Families
The flavors of fall are some of my favorites. Over the years, I have collected recipes that our family loves and has enjoyed many times. In addition to my handwritten collection of recipes, I also hoard recipes on Pinterest. Isn't that the greatest place to find recipes? 
For our family, fall is the best time to slow down and spend time cooking and baking. Most of the recipes that I am about to share are special and take a little effort to put together. However, the extra effort is worth it. The flavors and textures are sublime.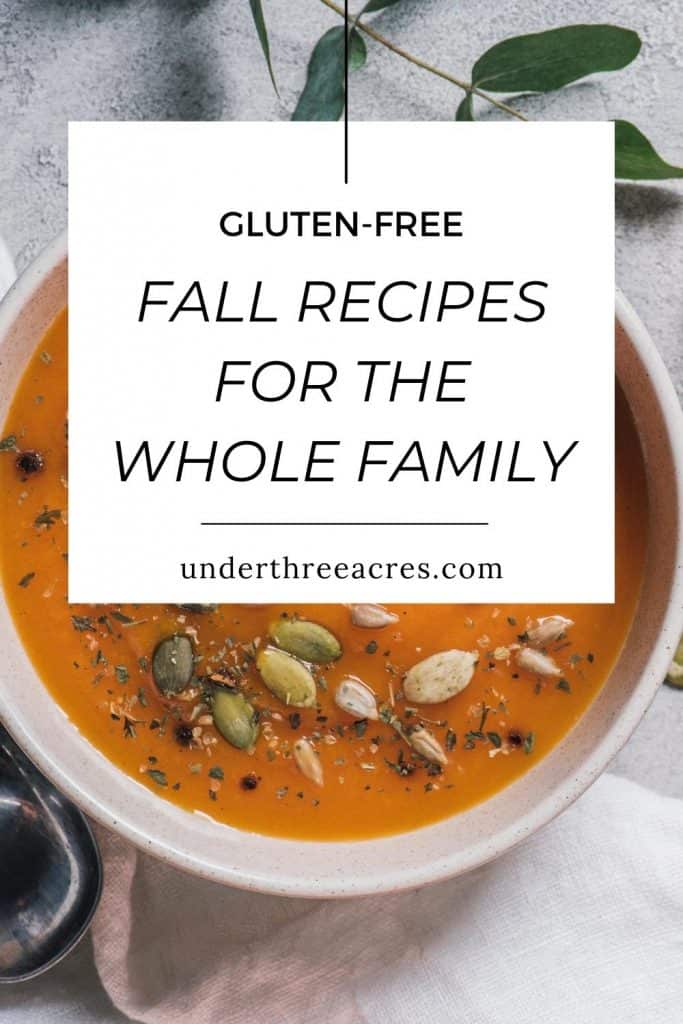 Here are some of our current favourite fall recipes…
As you may have noticed, most of the fall recipes are paleo or allergy-friendly. I have celiac disease and have to be adventurous in the kitchen at times. Over the years, I have learned to live with my restrictions. Now there are so many recipes for celiacs. 
The paleo and keto recipes are more common now and it really helps to feel less deprived and a little more normal. They are also pretty healthy and the ones above are kid-friendly.
Despite having celiac disease, I could never part with my great aunt's best recipes. I absolutely love her pumpkin pie and still make it in a paleo crust. It was a family favorite growing up and has graced many a Thanksgiving and Christmas table.
It can be made with roasted pumpkin or canned pumpkin and put in the unbaked pie shell of your choice. This recipe makes enough for one large pie plate or 2 smaller ones. If you can eat dairy, butterscotch ripple, or maple walnut ice cream pair nicely with it.
Quick Pumpkin Pie Filling
This pie filling whisks up in a jiffy and is mild-flavored. Aunt Bernadette wasn't fond of strong flavors and preferred the subtle taste of pumpkin with a little cinnamon and nutmeg.
I like to use roasted sugar pumpkins for the filling. They are a small variety of pumpkins with a lot of flavors. They tend to have less moisture than store-bought canned pumpkins. You will need to adjust the amount of milk accordingly.
Auntie's Pumpkin Pie Recipe
Preheat the oven to 450F.
Combine the first 5 ingredients in a large bowl. Whisk or beat together until thoroughly mixed.
Add the pumpkin puree and mix again until well blended.
Pour into an unbaked pie shell. Drizzle a little evaporated milk on top of the pie. If your pumpkin is dry you can add a little more, if it is quite moist omit it or use less. If you are dairy-free, use vanilla almond milk in its place.
Bake your pie at 450F for 10 minutes. After 10 minutes, turn your oven down to 350F and continue baking for 30 minutes. Your pie is done when the pumpkin is set and the crust is nicely browned.
Note: Use your favorite pie crust and top with whip cream or ice cream, if desired.
Does your family have favorite fall recipes? What do you look more forward to eating during the fall season? Are you on the lookout for delicious and wholesome gluten-free recipes? You've come to the right place. As a gluten-free homesteader, I am always creating new recipes to make from my farm-fresh produce. You won't want to miss my new recipes.
To get new recipes delivered straight to your inbox, subscribe below and be sure to check out our YouTube channel where I share extra tips on making gluten-free food affordable and tasty.
Shop Related Products