Simple Low-Carb Smoothie for Busy Moms
Chocolate and Raspberries are two of my favorite foods. I love simple foods that require little to no preparation. Chocolate and raspberries are lovely all on their own, but together they are a smashing combination in a simple low-carb smoothie.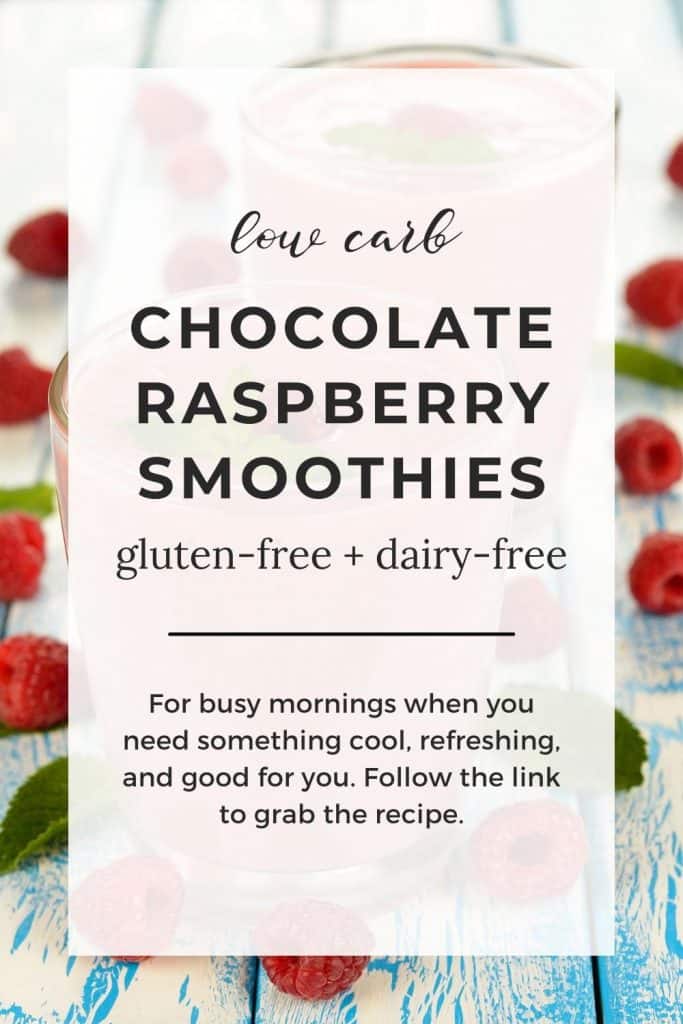 Simple Low Carb Smoothie Smoothie
This was my go-to recipe when I was a busy pregnant homeschooling mom. I am always on the lookout for simple recipes that are healthy and filling. I often spend hours scouring Pinterest for the perfect recipe.
My problem isn't that I don't find recipes, I do. It's just that I have several food sensitivities that make it extremely difficult to find that perfect recipe.
Today's simple low-carb smoothie recipe is actually a very modified version of one that I pinned here.
When looking for recipes, I look for low-carb or keto recipes. Sugar and I just don't get along. I am celiac and have hypothyroidism and I have found that I am particularly sensitive to sugar (even natural sugars like honey and maple syrup).
I have found that as long as I stay fairly low carb, my insulin doesn't spike and I have quite a lot of energy.  During my last pregnancy, I spent a lot of time reading Real Food For Pregnancy by Lily Nichols and really enjoyed the science behind optimal prenatal nutrition.
Since learning and reading about the benefits of a low carbohydrate diet, my health has improved significantly. In October of 2018, I started a strict Keto diet and lost 12 lbs in only 2 weeks. 
All of a sudden, I had energy reminiscent of that in my early 20's and my cycle got a jump start. I have the low-carb lifestyle to thank for our newest family member. I don't believe that I would have gotten pregnant with my youngest if I hadn't jumped on the keto bandwagon. 
Real Food for Pregnancy has proved to be extremely helpful in transitioning from strict Keto to a healthy low-carb diet. My first trimester was extremely rough.
It took almost four months before I got over my food aversions. I saw great value in Lily's advice and tried to incorporate her suggestions as often as possible. The recipe I modified was vegan and did not have collagen. 
Collagen contains the amino acid glycine. Glycine is the amino acid that supports the growth of bones, tissue, skin, and nails. Whether you are pregnant or not, glycine is elemental in helping your skin look vibrant and healthy. Who doesn't want skin that looks younger and more vibrant anyway???
Another ingredient that I added to the original smoothie recipe is raspberries. Raspberries contain antioxidants including vitamin C and improve our immune function and aid in fat burning. They are high in dietary fiber and manganese. Plus, they taste good, too.
I also chose to add a few low-carb sweeteners. I used a combination of Swerve and Pure Stevia Extract Powder from Trim Healthy Mama. This particular brand of stevia doesn't have a funky aftertaste compared to other brands.
To add more flavor, I added cinnamon and vanilla. These are completely optional and you can omit them if you like.
If you're a busy mom, you probably just want to skip right on down to the recipe at this point and that is ok. BUT if you are a fellow home school nerd like me, you might want to learn something new about cocoa powder.
You might already know that it is rich in polyphenols which are naturally occurring antioxidants that have been linked to lowering blood pressure, inflammation, and improving blood sugar levels. Cocoa has also been found to be anti-inflammatory.
In addition to all of that, I found a study conducted on pregnant women that associated frequent intake of chocolate with reduced stress and improved mood in babies. So, this is another reason to add this simple low-carb smoothie to your busy morning regime. It quite simply reduces stress.
Simple Low Carb Chocolate Raspberry Smoothie
This smoothie is rich in flavor and packs a protein punch. It is sure to keep you going on busy mornings. It is right for a variety of diets including dairy-free, gluten-free, low carb, Keto, and THM S (Trim Healthy Mama).
Measure and add all of the ingredients to a high-speed blender and blend until completely mixed. Enjoy
Nutritional information: Calories 411, Fat 34g, Total Carbs 15g, Fiber 8g, Net Carbs 7g, Protein 13g
If you are looking for more gluten-free recipes, be sure to check out the recipe section and subscribe to the mailing list. All of my recipes are gluten-free and many of them are dairy-free, paleo, or whole 30.
I would love to know what you think of my smoothie. Leave a comment below or tag me on Instagram and be sure to check us out on our YouTube channel.
As a gluten-free homesteader, I share lots of gluten-free recipes, gardening tips, and ways to improve your life while living gluten-free so that no matter if you are gluten-free or not, you can celebrate life without feeling deprived or left out.
DISCLAIMER: Please be advised that all of the information and health claims are provided for informational purposes only. Under Three Acres assumes no responsibility or liability for any damages, claims, liabilities, costs, or obligations arising from the use of this website or any other website to which this site is linked.
Shop Related Products